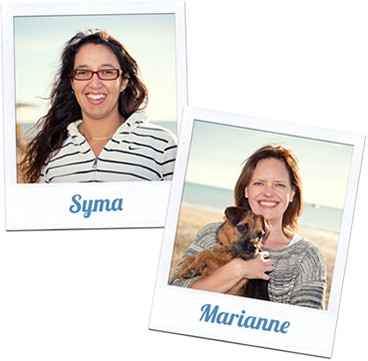 A unique partnership
Coastal VAs is unique as it is a partnership between two experienced and talented virtual assistants. When you work with us, you benefit from both of our experiences and skill sets. We also have a proven track record of working together and training and managing online teams. This means that we can deliver outstanding service to all of our clients all of the time.
Coastal VAs partners Marianne and Syma began working as Virtual Assistants (VAs) in 2008. As our skills and experience grew, we were each given the opportunity to manage a team of international VAs. In 2012, we decided to branch out and open our own, independent company and Coastal VAs was born!
Working with Coastal VAs allows you to access expert support at the level that is right for you. From just a few hours a month to the equivalent of a full time member of staff, you choose the support level that is right for your business.
How we can help
Coastal VAs can help you make your business a success. We can help you:
Deliver successful online marketing (Website, Email Marketing, and Social Media Marketing)
Manage new enquiries for maximum conversion
Communicate well with your existing clients so they receive excellent customer service and you maintain a high retention rate
Streamline your essential administration and management tasks and take as many off your plate as possible
Explore new ways of reaching your customers such as Webinars
Get in Touch
If you would like to find out how Coastal VAs can help your business, please do get in touch with us at office@coastalvas.com. We are always happy to meet up for a chat either by phone, online (Skype) or in person in the Bournemouth area. No fee and no commitment.
What our clients say
Marianne and Syma are really approachable and understand the challenges of being a business owner. Give them a problem or a wish and they will come back with a plan and provide workable practical solutions. I am so grateful to have had their help and support for many years; they make my work life so much easier and richer.